About Tanya Langlois
Tanya Langlois is a university qualified Naturopath – the highest standard of training in Australia for a naturopath – who has been practising for over a decade. After the birth of her 2 beautiful children Tanya wanted to specialise in the area of fertility, pregnancy and women's health to help and inspire others to overcome their obstacles and help them through their challenges.
Continually updating her knowledge, Tanya has undergone post graduate study in the areas of fertility, pregnancy, menopause and children's health and is a member of NHAA. (The National Herbalists Association of Australia). She treats women of all ages on their journey from adolescence, providing compassionate, caring and professional treatment which aims to enhance all facets of a women's health.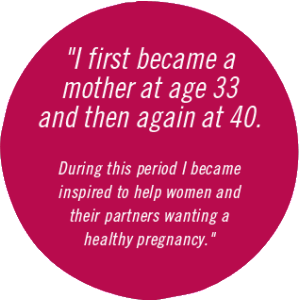 Tanya works with doctors and other health professionals to ensuring she can offer you the best comprehensive healthcare available. She is registered with all the private health funds so rebates may apply.
When not working Tanya loves swimming, bushwalking and playing with her kids.
With a little love…
At 33 yrs of age I hadn't had a period for 8 years. after trying many different therapists I finally found Tanya. She looked at all aspects of my health and was very thorough, caring and supportive in her approach. She helped boost my spirits and respected my desire to tackle the issue naturally. After taking herbal medicine, nutritional supplements and changing my diet I was overjoyed to finally see my cycle return.
Jennifer Petttigrew
I have been to see Tanya regularly over the past couple of years. With a family of 3 children we have had our fair share of childhood illnesses, particularly in winter. The herbal tonics she gave us have saved my sanity and working life. She has been my go to Naturopath since we moved to the Byron Shire. Tanya has a wealth of knowledge and common sense that resonates with me. I also like speaking mother to mother about holistically supporting my children.
Suzanne, Byron Bay